Our deliveries are becoming greener and greener
While the Nordic online shopping is growing at an unprecedented pace, recipients are making tougher environmental demands on retailers. This is shown by our latest consumer surveys. And this is why we are constantly working to make our parcel deliveries greener and greener.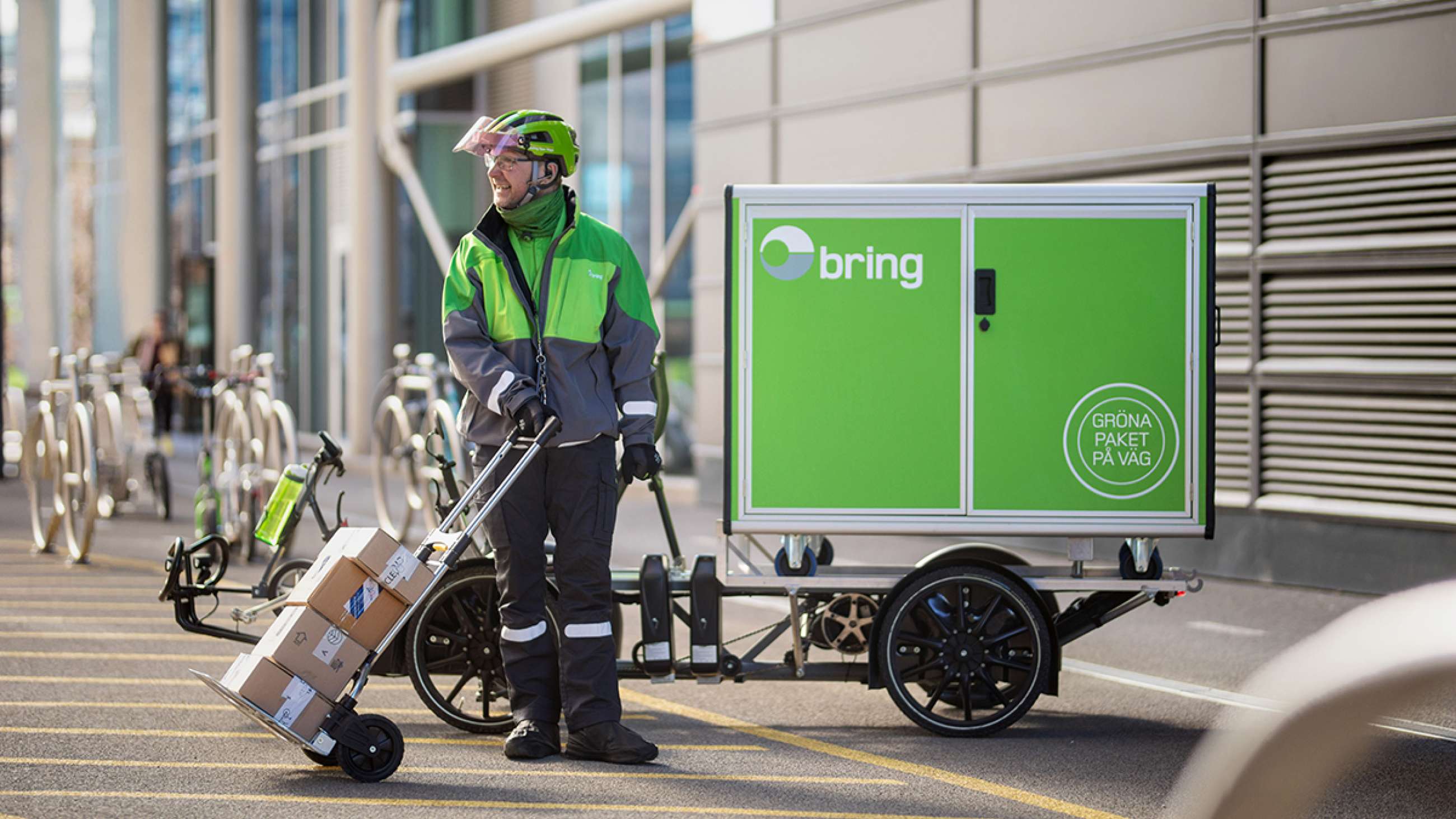 Published
2022-01-26
Last update
2022-11-21
Many online stores are now adapting to meet customers' environmental demands, by introducing everything from circular packaging to a greater focus on the actual production of goods. But the delivery of the parcels from online store to recipient also has an increasing environmental focus. Our e-commerce report Bring Research shows that more and more online customers are consciously choosing to shop at online stores that have a clear environmental and sustainability profile.
At Bring, we have worked systematically with sustainable deliveries since 2008, and we aim to only use renewable energy in all vehicles and buildings by 2025.
- As a major transport and logistics operator with the entire Nordic region as its market, we're part of the emissions problem. But we're also part of the solution. We must contribute where we can make a difference, says Catherine Löfquist, Sustainability Manager at Bring.
Constantly increasing customer demands
As online customers make tougher environmental demands on online stores, online stores make new demands of the transport operators they use. The environment and sustainability are therefore an increasingly important theme in our customer meetings. Documentation and concrete action plans are requested for the short and long term, and sustainability is also an element of our service development.
In 2021, for example, we launched Shelfless – a wholly integrated fulfilment solution with fully automated warehouses in Oslo and Stockholm, for online stores in the Nordics that have customers in Norway and Sweden. Shelfless contributes to making our deliveries even greener, as we work in our fulfilment warehouses with efficient, optimised warehousing. Packaging is also sustainable, as it is made with recycled material and less air in the parcels. Our warehouses will also have solar cells on the roof and be powered by green electricity. Furthermore, the majority of deliveries to and from the warehouses will be made by fossil-free or emission-free vehicles.
Fossil-free cities
Around half of the world's population lives in cities that continue to grow – in terms of both size and population. 75% of the world's carbon dioxide emissions come from our cities. One of our key ambitions in recent years has therefore been to reduce our emissions in the cities.
In Norway, we already have fossil-free distribution of parcels by goods vehicles in central Oslo, we were the first in Norway to use such vehicles, and postal distribution is currently emission-free in 50 or so Norwegian towns and cities. In Sweden, we have fossil-free courier, home and parcel deliveries in Stockholm, Gothenburg, Malmö and Linköping, and at an additional 341 locations.
In 2021, deliveries in Jönköping and Örebro will also be fossil-free, which means that we will reach more than five million inhabitants in Sweden with our green deliveries.
In Denmark, we have emission-free parcel and home deliveries to almost 800,000 consumers and businesses in the Copenhagen area* by electric vehicle and bicycle.
We are also working to electrify our entire vehicle fleet. We are already making our home deliveries of parcels in Stockholm city centre and the suburbs entirely emission-free using electric vehicles. In Norway, we have made what is probably Norway's largest purchase of large electric vehicles – 70 vehicles that will be used in towns and cities around the country. We have also ordered over 60 new small electric vehicles, as well as larger electric tractors from Nicola and Tesla.
Our ambition is clear: To be the customer's first choice and to be the best in towns and cities.
- This is also helped by the fact that Norway Post and Bring as a Group are highlighted by PwC in their annual Climate Index, where we have reduced our carbon intensity over the past three years. The index is based on publicly available information about how Norway's 100 largest companies work with sustainability. The information is taken from the companies' own reports, and is analysed and assessed by PwC's team. We are, as far as I know, the only logistics company in Norway that reports this and where it is verified by external parties, says Gunnar Henriksen, Acting Executive Vice President Director of the E-commerce and Logistics Division at Bring.
Increased focus on electric vehicles
At Bring, we have been working for several years on phasing out fossil vehicles, and we currently have one of the biggest fleets of electric vehicles in the Nordics. Since 2012, we have reduced our emissions by 45%, which corresponds to one year's emissions from 116,282 cars.
- For many years, we've been at the forefront of testing environmentally efficient solutions, to help create a market for zero-emission solutions, says Catherine.
It is now time to speed up work on the transition, which is why we are introducing a block on purchases of new fossil vehicles for use in cities by 2022, and outside cities by 2023.
We are therefore maintaining a strong focus on electric operations and the charging infrastructure. In order to help influence tomorrow's sustainable delivery solutions, we have, for example, invested in the Swedish company Elonroad, which manufactures charging solutions for electric cars via a rail in the road.
In the autumn of 2020, we opened a new terminal in Västberga in Stockholm, specially built to handle sustainable home parcel deliveries. Among other things, it has 40 or so charging stations for electric vehicles, which secures and contributes to our zero-emission home deliveries in Stockholm.
In Denmark, we currently have six electric vehicles for distribution in Zealand and one electric van on the island of Samsø. Bicycles and electric bicycles are also being used in several places, and we are constantly testing new vehicles. Among other things, we have tested the Mercedes "eSprinter" electric van in Copenhagen.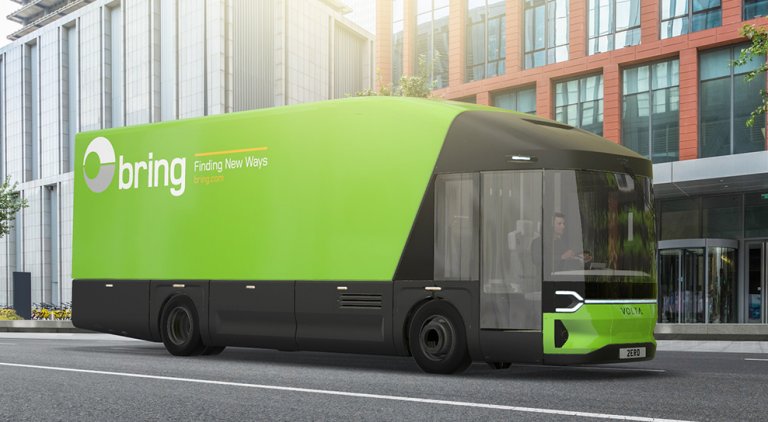 Cross-industry collaboration
Even though you can do a lot yourself, collaboration is very important. Together with the recycling company Ragn-Sells, Vasakronan and the City of Stockholm, we have a sustainable partnership called Beloved City (Älskade stad/Elskede by). Fossil-free vehicles such as electric bicycles and electric vans deliver parcels and goods to customers in the city centre and take dry waste back with them.
- The aim of this collaboration is to reduce emissions, reduce traffic and noise, and create a better atmosphere in our cities. We believe that by being willing to test and demand more sustainable solutions, and working together with partners and stakeholders, we can contribute to more sustainable transport solutions, explains Catherine.
There is currently collaboration in Stockholm, Malmö, Oslo and Trondheim, with plans to increase the number of cities in the future. So far, this collaboration has resulted in an annual CO2 reduction of 105 tonnes.
We are also involved in other kinds of collaborations in the area of sustainability. For many years now, we have been a member of the 2030 Secretariat, an organisation that works actively to ensure that Sweden achieves its ambitious climate goal in the transport sector: to have a fossil-free vehicle fleet by 2030. We are also part of the Fossil-free Sweden network, which brings together actors who support the declaration that Sweden shall be one of the world's first fossil-free welfare countries.
- We can and want to do more. But a totally green supply chain will only be created when there are a lot of us helping each other, concludes Catherine.
*Copenhagen, Valby, Frederiksberg, Glostrup, Greve, Ishøj, Brøndby, Rødovre, Tårnby and Dragør
Do you want to find out more about our work on sustainability?
Are you and your company interested in sending parcels in a sustainable way? Or would you like to talk about something else relating to sustainability and logistics?